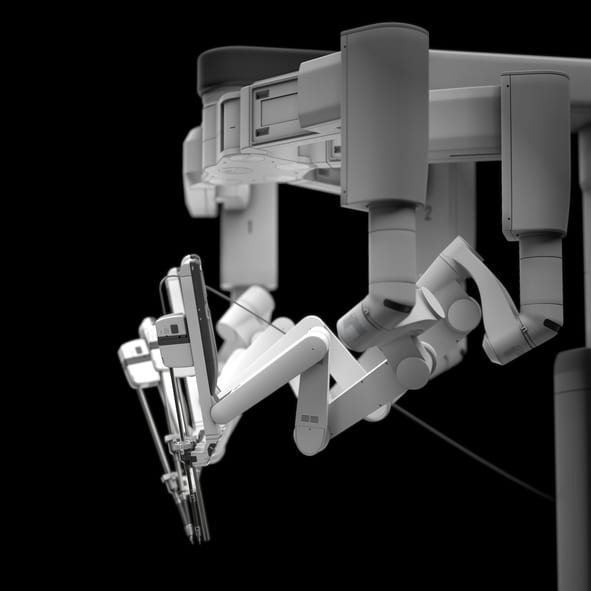 Robotic surgery, a technique in which surgeons perform minimally invasive surgery using a robotic device, has become the new norm across many medical subspecialties. Systems such as the da Vinci robotic surgery platform are commonly perceived as an optimal course of treatment for patients compared to open surgical techniques and even minimally invasive laparoscopic procedures. The reason why robotic surgery stands out is that studies demonstrate a high rate of accuracy and safety, resulting in less bleeding during surgery and shorter hospital stays after surgery.
Since the emergence of robot-assisted surgery more than 15 years ago, an increasing number of surgical procedures have been handled using this innovative technique. Nearly every surgical specialty now utilizes robotics. To keep up with the demand for optimal patient outcomes, device manufacturers have continued to refine robotic systems for optimal maneuvering. For example, the robotic arm that "performs" surgery (led by a skilled surgeon) can be moved in a variety of ways to reach any part of the body. Today's robots have more dexterity than the surgeon's hands alone, and also better eyes.
According to surgeons who have used robot-assisted surgical systems since they first became available liken the upgrades on system lenses to those we are accustomed to seeing with cell phone cameras. In addition to improved optics, robotics has also evolved to have smaller operating arms and more instruments to assist with surgical procedures, such as vessel sealers.
What This Means for You
It isn't the technology itself that is the most impressive aspect of robotic surgery, though it is pretty extraordinary even to imagine we can perform surgery using robotic hands these days. What stands out to surgeons is the way that robotic surgery helps them achieve the best outcome for their patients. Since the development of robotic surgery, the number of blood transfusions needed during or after surgery has declined dramatically. Patients who undergo robotic surgery have less scarring and report a much more comfortable recovery than those treated with conventional open surgery techniques.
At UT Urology, we have a strong commitment to medical advancement. Our team is abreast of improvements in surgical techniques and technologies like robotic surgery and is proud to offer the highest standard of care to our patients.
Do you need treatment for a urologic condition? Contact our Chattanooga office at (423) 778-8765.